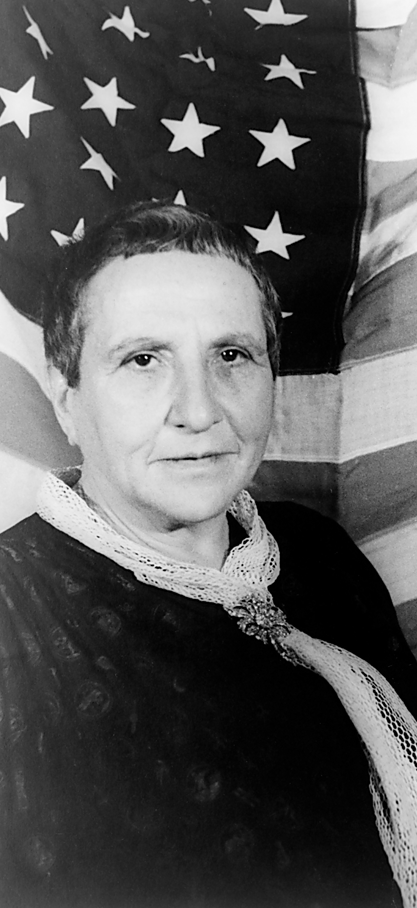 School of Arts and Sciences at Hunter College, CUNY
Stein at the American Literature Association:
May 21-24, 2015 in Boston, MA.
We are happy to announce that the Gertrude Stein Society will be holding one plenary session and two roundtables at the upcoming American Literature Association Conference, May 21-24, 2015, in Boston. The plenary on re-reading race in Stein is long overdue, and we look forward to learning about the work of Chris Leslie, Ery Shin, and Cheryl Alison. The roundtables will be comprised of contributors to the new and quite wonderful Primary Stein: Returning to the Writing of Gertrude Stein (Lexington Books, 2014), edited by members Janet Boyd and Sharon Kirsch.
Our own schedule is as follows, and to view the complete ALA conference program, go to http://americanliteratureassociation.org/calls/annual-conference/.
Session 11-B Re-Reading Race in Gertrude Stein (St. George B 3rd Floor) Friday May 22: 2:10 – 3:30 Chair: Jody Cardinal, SUNY College at Old Westbury
"'Melanctha Was Too Many for Him': Three Lives' Engagement with Scientific Racism," Christopher Leslie, NYU Polytechnic School of Engineering
. "Gertrude Stein and 'Nonsense' Rap," Ery Shin, Rutgers University
"Reading Stasis in Stein's Mrs. Reynolds," Cheryl Alison, School of the Museum of Fine Arts
Session 16-I Primary Stein I: Returning to the Writing of Gertrude Stein A Roundtable (Essex North East 3rd Floor) Saturday May 23: 11-10 - 12:30 Chair: Sharon Kirsch, Arizona State University
Steven Gould Axelrod, University of California, Riverside
Kristin Bergen, Howard University
Janet Boyd, Fairleigh Dickinson University
Phoebe Stein, Maryland Humanities Council
Jody Cardinal, SUNY College at Old Westbury
Gabrielle Dean, Johns Hopkins University
Session 19-I Primary Stein II: Returning to the Writing of Gertrude Stein A Roundtable (Essex North East 3rd Floor) Saturday May 23: 3:40 – 5:00 Chair: Janet Boyd, Fairleigh Dickinson University
Neil Schmitz, University at Buffalo
Adam Frank, University of British Columbia
E.L. McCallum, Michigan State University
Rebecca Ariel Porte, University of Michigan, Ann Arbor
Sharon Kirsch, Arizona State University
Linda Voris, American University